To solve the poor interior, which is one of the few drawbacks of the Lancer Evo, I put a carbon-style sticker on the area next to the hazard switch.
Applying carbon fiber stickers
Originally, it was a simple hazard switch area. Well, it's not just the hazard area that's simple.

This is where we will apply the carbon fiber stickers we purchased.
The sticker is made of a solid material, and it has a more three-dimensional shape than the Magical Art Sheet NEO for the rear bumper that I applied before, and it is bumpy to the touch. Both products have a carbon look, but this one has a more realistic structure. For the price, it's a good product.
I was worried about what I would do if I misplaced the paste, but decided to give it a shot.
1.Clean the dust from the area to be attached using wet wipes.
2.Position and attach with Go!!.
3.Finish.
I was worried that it would be difficult to align depending on the size, but it was the perfect size for the hazard area, so I was able to put it up nicely without any difficulty.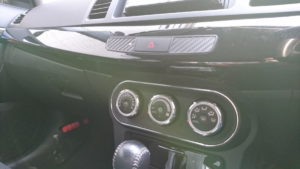 The position of the red LED light that glows after the engine is stopped was also perfect.
I'm not sure if it gives the interior a luxurious feel, but I'm satisfied with the result.